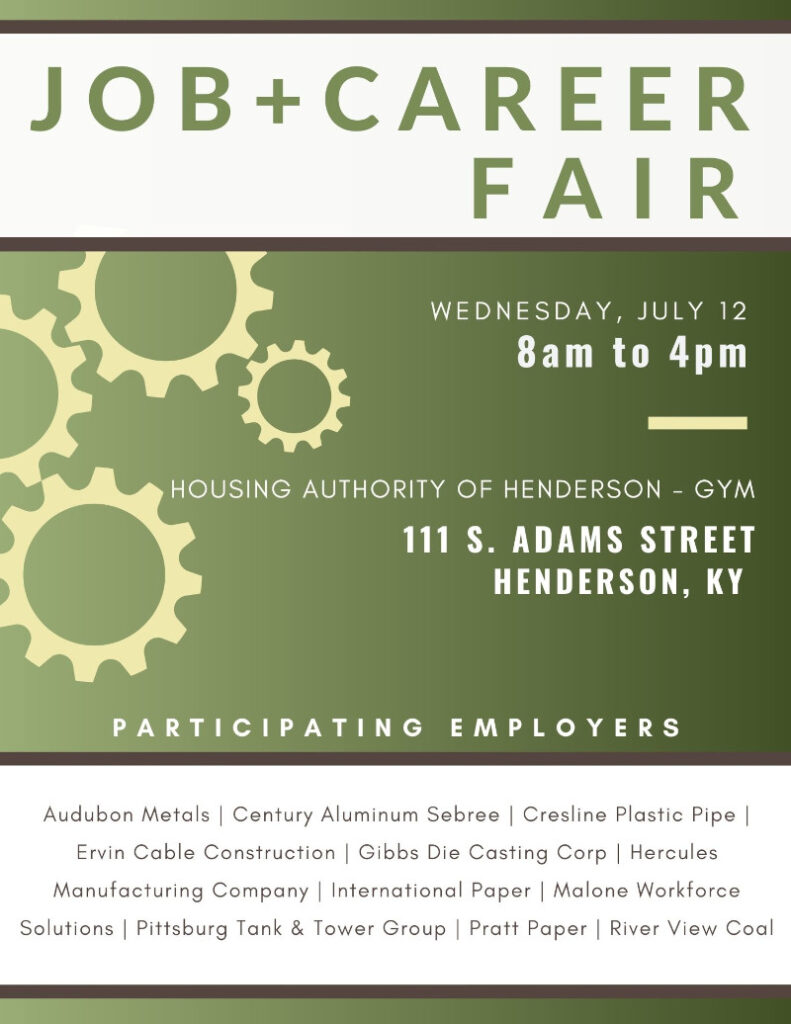 18 companies are registered to connect with job seekers.
HENDERSON, Ky. (June 26, 2023) – Henderson Economic Development (HED) is hosting a one-day job and career fair on July 12th from 8am to 4pm. The event will take place at the Housing Authority of Henderson in the gymnasium. The address is 111 South Adams Street. In total, there are 18 employers who will be on site to distribute information to job seekers about their openings.
Participating employers are Audubon Metals, Century Aluminum Sebree, City of Henderson, Cresline Plastic Pipe, Custom Staffing, Deaconess Health, Ervin Cable Construction, Gibbs Die Casting Corp, Hercules Manufacturing Company, International Paper, Malone Workforce Solutions, PeopleReady, Pittsburg Tank and Tower Group, Pratt Paper, River View Coal / Henderson County Mine, and SGS North America Inc..
The fair is open to all job seekers looking to enter Henderson's workforce. Participants come and go at their convenience to connect with employers. There are openings for multiple positions ranging from entry level to management. Some employers are open to second chance employment.
Job seekers are encouraged to visit HED's Community Job Board before the event. This interactive tool is an easy-to-navigate website for job seekers. Features include filtering by job type, skill level, location, full-time/part-time, and more. Researching beforehand gives event participants an opportunity to prepare before speaking with a company.
Employers post on the Community Job Board frequently, organize jobs by classification, add job descriptions, applications, and contact information. After an employer adds a listing, it automatically posts to HED's Facebook page.
More information can be found on our Facebook (@Henderson Economic Development) and LinkedIn (@hendersonkyedc) accounts. Users can view our event landing page, which includes companies participating, the date and time, and the location.
HED will continue posting resources to prepare for the upcoming job fair. The Henderson County Public Library is hosting "Resume Help" sessions July 6th at 10am and July 11th at 6pm.
HED Director of Existing Industries and Workforce Development, Whitney Risley, said employers have a wide range of jobs available.
"This group of participating employers has over 300 jobs available. The open positions vary in skill level and shift schedules. We encourage job seekers to come to the job fair prepared with an updated resume and review the jobs that are posted on www.hendersonkyjobs.com," Risley said.
The partners involved in the job and career fair are existing industries in the Henderson area, Henderson Economic Development, the Housing Authority of Henderson, and the Kentucky Career Center. This group is dedicated to building a strong workforce to meet industry needs.
Henderson Economic Development – Facilitating economic development and job growth in Henderson, KY.