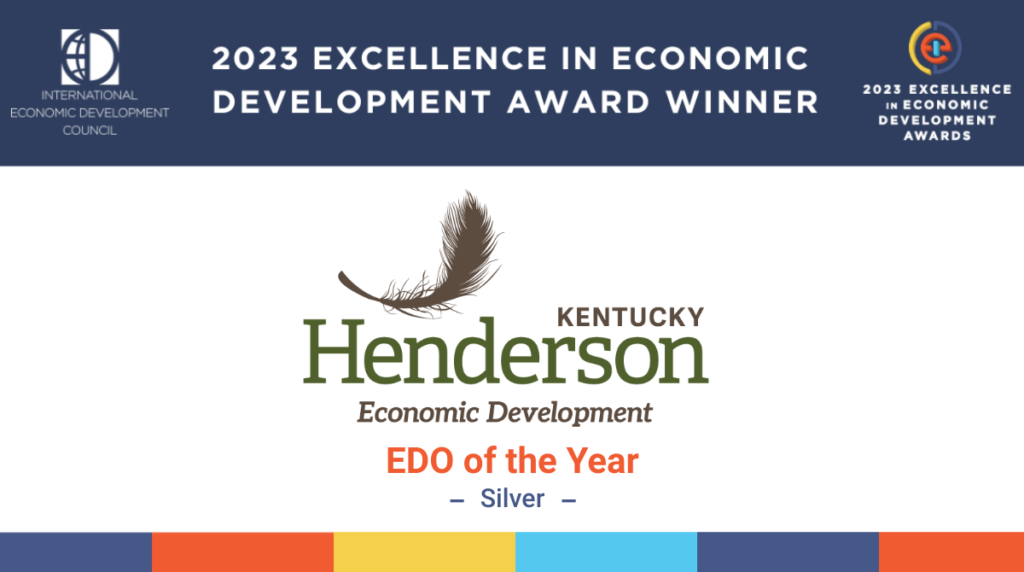 FOR IMMEDIATE RELEASE
September 26, 2023           
Contact Information:   
Missy Vanderpool
270.854.9455
Henderson, Ky. (September 26, 2023) – Henderson Economic Development (HED) received a 2023 Excellence Award in Economic Development Organization of the Year Silver Level from the International Economic Development Council (IEDC). The award was bestowed specifically for the organization's work in the Economic Development Organization of the Year category for communities with 25,000 to 200,000 residents.
"HED has raised the bar for excellence in economic development with its program. This award is a testament to HED's dedication to its residents and serves as a great example of how economic development can help transform a community for the better," said Nathan Ohle, IEDC President and CEO. "It is IEDC's honor and privilege to present HED with this award and recognize its leadership and innovation in the field of economic development!"
Every year IEDC looks specifically for economic development organizations, government entities, initiatives, and programs that have demonstrated consistent, exemplary performance in the economic development profession, leading the execution of projects that have a significant impact on revitalizing communities, and playing a major role in shaping and improving the practice of economic development.
Dr. Jason Warren, chairman of HED's Board of Directors and President of Henderson Community College (HCC), commended the relationships built between HED and their colleagues.
"Community pride, collaboration, and teamwork are the hallmarks of HED. My position at HCC has given me a front row seat to witness the work of a fantastic HED staff, an outstanding Board, talented city/county officials, and selfless civic leaders. All of whom are passionate about Henderson's continued growth. Relationships matter. I believe that is the foundation for HED's success," Dr. Warren said.
Henderson County Judge/Executive Brad Schneider congratulated HED and all their partners on their leadership and accomplishments.
"The IEDC has confirmed what folks in Henderson County already know: We have one of the very best economic development teams in the country. Missy, Whitney, Kate, Stephanie and the HED board, along with the city, county, and our utility partners, consistently collaborate to accomplish things many other communities don't," Judge Schneider said. The HED team leads that cooperative effort with expertise and passion. IEDC members better get used to hearing about Henderson County. More great things are on the way."
Mayor Brad Staton said he recognizes the impact HED has made in ­­­the community.
"This significant award and recognition underscores something we've known for quite some time. We are blessed to have one of the best Economic Development organizations in the country right here in our hometown. Looks like the secret is out," Mayor Staton said.
About Henderson Economic Development
HED's mission is to facilitate economic development and job growth in Henderson, Kentucky. The five components that encompass HED's mission are existing business retention and expansion, workforce development and talent attraction, industry attraction and recruitment, investor relations and communications, and community development. As HED works within these components, quality of life improves for citizens and local prosperity continues to grow.
About the International Economic Development Council
The International Economic Development Council (IEDC) is a non-profit, non-partisan membership organization serving economic developers. With more than 4,300 members, IEDC is the largest organization of its kind. Economic developers promote economic well-being and quality of life for their communities by creating, retaining, and expanding jobs that facilitate growth, enhance wealth, and provide a stable tax base. From public to private, rural to urban, and local to international, IEDC's members engage in the full range of economic development practices. Given the breadth of economic development work, our members are employed in various settings, including local, state, provincial, and federal governments, public-private partnerships, chambers of commerce, universities, and a variety of other institutions. When we succeed, our members create high-quality jobs, develop vibrant communities, and improve the quality of life in their regions. Learn more at iedconline.org.
###