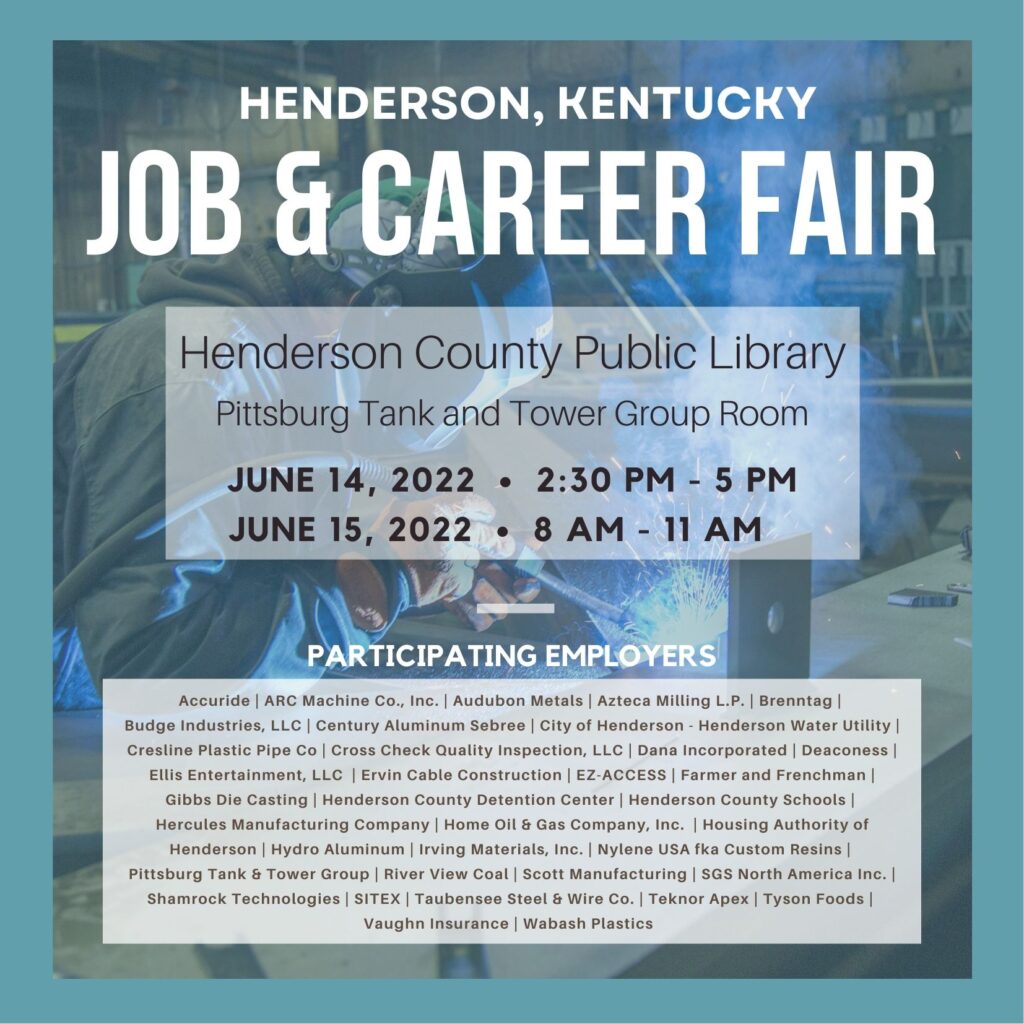 Henderson Economic Development Workforce Coalition Hosts Two-Day Job and Career Fair. 
37 companies are registered to connect with job seekers.
HENDERSON, Ky. (June 7, 2022) – Henderson Economic Development Workforce Coalition is hosting a two-day job and career fair on June 14th from 2:30 to 5p.m. and June 15th from 8 to 11a.m. The event will take place at the Henderson County Public Library in the Pittsburg Tank and Tower Group Room. In total, there are 37 employers who will be present over the course of two days to distribute information to job seekers about their openings.
The fair is open to all seekers looking to enter the workforce in Henderson, Ky. Participants come and go at their convenience to connect with employers. Companies registered are hiring for multiple positions ranging from entry to management skill levels. Many of the employers are open to second chance employment.
Job seekers are encouraged to look at our Community Job Board beforehand, found using this link – hendersonkyjobs.com. The interactive job board includes features making the search for a job simple. Features include filtering the posts by job type, skill level, location, full-time/part-time, and more. Seekers can also click on the map to see specific job posts near them. Employers can quickly post jobs, organize them by job classifications, add job descriptions, applications, and direct contact to the company. After an employer adds a listing, it is posts automatically to our Facebook page. Looking at this prior to the event gives job and career fair participants an opportunity to prepare before speaking with a company.
More information can be found on our Facebook (@Henderson Economic Development), LinkedIn (@hendersonkyedc), and Twitter (@hendersonkyedc) accounts. Followers can view our flyer, which includes companies participating, dates, times, and the location. We post tools to prepare for the upcoming fair. There is an infographic that breaks down career opportunities by skill level. They are pre-entry level, entry level, experience, experience with education, and management. Under each skill level, they can find specific salaries, benefits, required certifications, and career pathways. Another resource participants should utilize is the Kentucky Career Center. They will be at the Henderson County Public Library on June 9th to offer career counseling and help with resume writing and interviewing. We encourage job seekers to utilize these resources.
"We encourage job seekers to bring an updated resume, take time to learn about the companies and be prepared for an interview," said Whitney Risley, Henderson Economic Development Director of Existing Industries and Workforce Development. "There are many jobs available in Henderson across all skill levels – from entry level production to industrial maintenance to management. This group of participating employers has over 1,500 open positions. This is a great opportunity for anyone looking to enter the workforce or make a career change."
Henderson County Judge/ Executive Brad Schneider says Henderson is a great place to live and work.
"Henderson County is a great place to live, and great place to raise a family and a great place to WORK! Whether you're looking to break into the job market, take your skills to the next level or switch to an entirely new career, you'll find what you're looking for at this hiring event. Great jobs are everywhere in our community!"
The partners involved in the job and career fair are existing industries in the Henderson area, Henderson Economic Development, Henderson Community College, Green River Area Development District (GRADD), and Kentucky Career Center. This group is dedicated to building a strong workforce to meet industry needs.
Henderson Economic Development – Facilitating economic development and job growth in Henderson, KY.